University associate degree graduation requirements
The AA programs in military studies and organizational leadership have been designed with, and are offered in partnership with, the U.S. Naval Community College specifically for enlisted sailors, marines and coast guards.
The AA program in military studies is designed to help students gain a broad view of the historical and political contexts of contemporary U.S. national security and naval actions. The program draws on ASU's strengths in history, politics, global studies, interdisciplinary studies, and the causes and future of war, with the USNCC providing specific military content and expertise and ASU providing civilian framing and expertise.
The AA program in organizational leadership uses transdisciplinary methods to prepare students to become leaders in organizations across all sectors: private, nonprofit, government and military. Students develop the skills that leaders need to solve problems, communicate effectively, assess programs, manage resources, and evaluate emerging technologies. The flexible Associate of Arts degree allows students to complete general education coursework and concentrated coursework in a second, disciplinary field to prepare them for leadership in a specific industry.
All students enrolled in the Associate of Arts in military studies or the Associate of Arts in organizational leadership must fulfill the following Arizona State University requirements to graduate from ASU.
Credit requirements
A minimum of 60 credit hours is required for graduation with an associate degree. Students should check the program's graduation audit and major map for graduation requirements.
Grade point requirement
A minimum cumulative grade point average of 2.00 for all courses taken at ASU is required to graduate.
General Studies requirement
All students enrolled in an associate degree program must satisfy the university required minimum number of approved lower-division General Studies courses. Students should refer to the General Studies page for more information.
Completion of General Studies and composition requirements at a domestic institution accredited by an organization recognized by ASU as certified on the official transcript will fulfill ASU's lower-division General Studies and composition requirements. Certification of completed General Studies may include students' completion of a general education package (ex: AGEC, CSUGE, IGETC), an associate of arts degree or bachelor's degree or comparable, as documented on an official transcript. If students transfer from Arizona community colleges without completing the AGEC or from other accredited postsecondary institutions, they receive credit for General Studies based on course-by-course equivalency. Students should review the Arizona General Education Curriculum page.
Mathematics requirement
All associate degree-seeking students are expected to fulfill the university's mathematics requirement by the time they have accumulated 30 credit hours in residence at ASU. Any student who has more than 30 credit hours and has not fulfilled the mathematics requirement must enroll in a mathematics course or an appropriate prerequisite course and continue to do so every semester until the mathematics requirement is met. A waiver may be granted for continuous enrollment if there are scheduling conflicts detrimental to the student's academic progress.
First-year composition requirement
All students must meet the university First-year Composition requirement through completion of both ENG 101 and ENG 102, or ENG 105 with a grade of "C" (2.00) or higher. Students for whom English is not a native language should complete ENG 107 and 108 with a grade of "C" (2.00) or higher to satisfy this requirement. All incoming students will be placed in ENG 101 or appropriate first-year composition course based on submission of test scores, exam scores or transfer credit.
Transfer credit
Composition courses transferred from other postsecondary institutions may require evaluation. After consultation with an advisor, if evaluation is necessary, the student should submit a request for evaluation through the ASU Transfer Guide. The process should be completed upon transfer of coursework to ASU so the student is able to enroll in additional courses if required to do so. Students who are required to take first-year composition must enroll in their first required composition course within the first year and continue to enroll in required composition courses every term until composition requirements are met.
Resident credit requirement
Resident credit refers to a course completed at ASU in a regular semester or summer session. Credit earned through ASU comprehensive examinations also is included when calculating ASU resident hours. Credit earned through independent learning, Advanced Placement testing, the College-Level Examination Program or an International Baccalaureate exam are excluded when calculating ASU resident hours.
Every candidate for an associate degree is required to earn a minimum of 15 credit hours in resident-credit courses at ASU.
Transfer credit
Students can review the general transfer credit requirements on the catalog website.
Application for graduation
Students can review the ASU Graduation website for information on how to apply for graduation and deadline dates.
Petition for variance from degree
Any student wishing to have a college or university degree requirement variance must petition the standards committee of the college in which the student is enrolled. All petitions must originate with the student's advisor.
The University Undergraduate Standards Committee advises the Office of the University Provost regarding undergraduate student petitions that concern university-wide academic requirements. These requirements include: requirements on the amount of transfer credit, graduation requirements, and limits on credit by examination. To petition for a variance from such university requirements, the University Undergraduate Standards Committee petition is used. Most petitions heard by the University Undergraduate Standards Committee start at the college level and are forwarded for final review and decision to the university-level committee.
Overview of graduation requirements
The associate degrees developed in partnership with USNCC comprise four parts: the Naval Studies certificate courses, the professional certificate courses, general education and university requirements. As illustrated in the graduation requirements diagram below, some courses can fulfill two or more types of requirements but other courses fulfill only one requirement. The total credit hours needed to graduate are represented by the largest circle. The university minimum is 60 credit hours for an associate degree.
Although the three shaded circles in the illustration below are equal in size and the white circle is larger than all three, the total number of credit hours for each type of requirement may vary.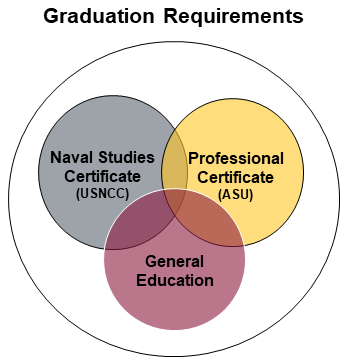 Naval Studies certificate
The gray circle represents the naval studies certificate curriculum as taught by the USNCC. These courses transfer to ASU and are applied to the associate degree curriculum as transfer credit.
Professional certificate
The yellow circle represents the professional certificate, conferred by ASU in addition to the associate degree at the time of program completion. The certificate requirements are embedded in the associate degree requirements.
Students in the AA program in military studies earn a professional certificate in military studies. Students in the AA program in organizational leadership earn a professional certificate in organizational leadership
General education
The red circle represents the general education requirements, comprising both major requirements and ASU General Studies requirements.
Graduation with academic recognition
Graduation with academic recognition is applicable only to bachelor's degree programs.
Minors and certificates
Students enrolled in the associate degree in military studies are not permitted to add a minor or additional certificates.
Admission to a bachelor's degree program
Students admitted to and enrolled in an associate degree program (and accompanying professional certificate) must apply for admission to ASU to pursue any other degree or credential.
Students enrolled in associate degree programs at ASU are not eligible to change their major.
Additional policies
Students enrolled in this degree are held to all other ASU and College of Integrative Sciences and Arts policies, including:
Academic Good Standing and Probation